Discover more from Midnight Burger Productions
Diversions and just a few capers before cocktail hour.
Nourishment and the fight of our lives
On the necessity of rest and love and grilled cheeses in the midst of 2020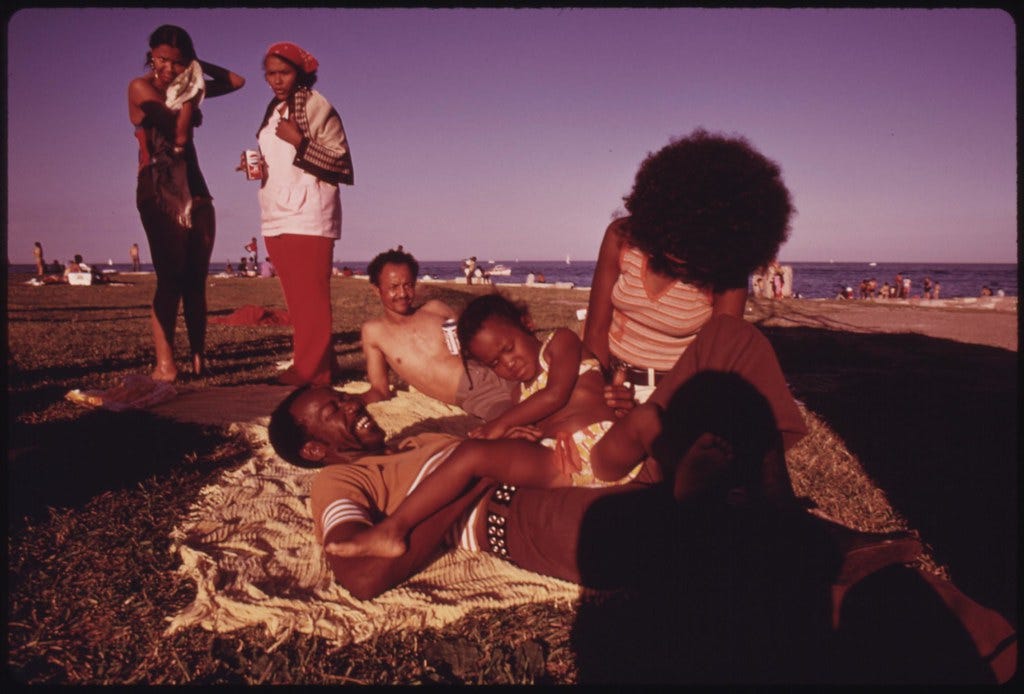 [Photo of black family enjoying summer on Lake Michigan by John White,
courtesy of the National Archives
]
I didn't have the will or the words. And people kept emailing, texting, asking if I had something to say, or wondering how I was managing. The last three weeks have been a kind of blur of hurt and sadness, occasionally interrupted by rage or spontaneous crying. I've alternated between full body numbness, like having your foot fall asleep, and masses of tension radiating across my back, my arms and shoulders. Other times it was just chest pains, like an anxiety attack led by a swarm of bees where your left lung should be.
I remember after I got off Zoom with my therapist (whew, remember that lil' pandemic that's still happening?) I sat down on the couch, turned to my partner, Mitu, and just said: "I'm not OK."
Problem is, being a black writer you face a kind of double jeopardy when black pain, suffering and death consumes the news. If you work in a newsroom, they look to you for your voice, but also to provide cover for the shortcomings of in-house diversity. If you're a freelancer, your inbox starts getting the attention you'd have begged for in the months you were eating instant ramen over the sink. Either way, you end up carrying the weight of your own feelings and frustrations, your own encounters with police, lost loved ones—the accumulation of microaggressions from around the office—while also getting up to your neck in reporting on a pain that feels inescapable. And instead of engaging in self care, calling up/finding a therapist, you're pushed deeper into trauma. Let's complicate that further, because these opportunities, as horrific as they are, now suddenly become a vehicle for your own career, or at least a paycheck to push off another ramen night. (Cord Jefferson wrote an excellent piece on this phenomenon back in the days before he was helping make HBO's Watchmen one of the blackest experiences in modern TV.)
So why did I end up writing something for The Atlantic anyway?
Because George Floyd matters. Breonna Taylor matters. Ahmaud Arbery matters. Oluwatoyin Salau matters. Tony McDade matters. Every single kind of black life, maybe even ones you've never experienced, matters. On top of that, what happened in Minneapolis was deeply personal to me, and the pain that I was feeling had to go somewhere. I didn't know I had the words for what I felt or what I lived. I struggled with how raw I should be. Wondering if I'd be making my mom proud. I didn't want to cash a check just because of black death. But speaking out, getting mad in the bright light of day and shoving my hometown's history of inequality into the spotlight? That was something I could actually do in this moment.
But let's be real: I'm so damn tired, and tired of being tired. Systemic racism may (possibly? hopefully? theoretically?) be taking more body blows right now than it has in the last 50 years, but reaching that point takes a toll on black bodies. It's not just the prevalence of black death (but let's be clear, that is crushing), it's the fact that we have to shoulder the work of calling out the racism, discrimination, gaslighting and bullshit we endure in trying to have a career, let alone just live. The world of journalism is hopefully facing a long overdue reckoning in the lanes of race and power. And in the world of TV, black creators are once again trying to drag studios, producers and networks into equality.
All of which is to say, one of the most important things to do in this moment is not just protect black life, but nourish and keep it healthy. Joy is necessary, so is love. And rest.
I don't want to speak for anyone else who has been feeling the weight in their melanin lately, but I know I'd love to be doing so much else right now. That's not annoyance with the upheaval growing in this moment, just the acknowledgement that sometimes it feels so damn hard to actively make your own black life matter when the world keeps saying otherwise. It's feeling like you've got to keep pushing before the moment is gone, doing the work of creating reading lists or donation guides for people who should do some Googling for themselves.
I've been trying to work on a script for a short to shoot later this year. I've been struggling to get staffed on TV gigs. I need to be hustling harder to get a podcast project off the ground. I just want to be me, make shit, live a life. [And P.S., if you or someone you know is hiring somewhere in the universe of TV or has some development money to throw around: reply to this email.]
All of which is to say, one of the most important things to do in this moment is not just protect black life, but nourish and keep it healthy. Joy is necessary, so is love. And rest. (Also, drink more water.) 
Love and care looks different for everyone. Maybe it's pulling back from the news, or social media. Maybe it's grilled cheese sandwiches, or edibles. It could be feeling the sun of summer on your skin. That 30 minutes it takes to put on an outfit that makes you feel cute? That counts. Things like surrounding yourself with the people important to you in a passionate (and most socially distanced and responsible) embrace.
Or, maybe, as my mom said recently, "I found myself looking at old Hallmark movie reruns, or going to sleep."
Given all that, here, in no particular order, is a collection of things that have brought me joy and kept me grounded lately. Thanks to the New York Times styles team for the joy-spiration. 
This is basically my Oprah's annual favorite things list, minus the price tag. 
The Summer 2020 Joy Mixtape
Linen pants: All the comfort of sweatpants, none of the stigma.

TV shows: Harley Quinn continues to be an absurd delight and commentary on comics. Insecure's new season has felt incredibly messy and powerful. The Big Flower Fight has reached British Baking Show levels of comfort watch. The reality show ALONE recently appeared on Netflix. It is the insane survivalist watch we need in these dark times. Revel in the weird pleasures of watching someone eat muskrat and wrestle with the question if you can die from getting the shits?

Re-reading old issues of Justice League International: Superheroes in a workplace comedy! Back in the mid-late 80s DC decided to take the company's premiere team and turn it into a sitcom, largely populated by B-team members you've likely never heard of unless you spend time in the DC Comics Encyclopedia. And it strangely works? You could almost map the heroes to characters from a Mike Schur-produced sitcom. Batman as the super intense coworker who thinks he's always right. Black Canary as the punchy voice of reason. Booster Gold as the off-hours scammer. It's an absolute delight and I would pay money to make this into a real TV show.

A brand new forest green jumpsuit I bought from Dickies that is wildly comfortable, fashion forward and frankly practical if the pandemic shifts into a zombie apocalypse. 

Lovers in a Dangerous Spacetime: A manic couch co-op game where you and whoever else is in your house work together as the crew (who's flying? who's on the weapons? wait, do we have shields?)of an adorable starship. The goal is simple, protect cute animals and save love across the stars, and hopefully not destroy your existing relationship with your partner. (Editors note: Speaking of relationships and gaming, if you're into streaming you can occasionally watch Mitu and I playing games on Twitch. Viewer discretion is advised.)

Rediscovering the joy of bike riding. (And the instant-anxiety that is trying to ride a bike in New York)

Blvckvrchives: I don't remember when or how I first found this account on Instagram, but it's become one of the brightest parts of my day whenever I'm scrolling through. The feed is curated by Renata Cherlise, and I think the reason it resonates so much for me is that the photos are everyday life. It's black folks just living, captured in good times or random times. That shouldn't feel like a rarity. 

That point in the day when I go from thinking my hair is an unruly mess to loving longer hair.

 Also, in video games: Light dunking on Animal Crossing and its celebrity scammer in chief, Tom "it's not a pyramid scheme, it's a lifestyle" Nook.

The one week where I was re-evaluating the music of Wings: Just follow me - "Silly Love Song" is objectively corny as hell, but "Arrow Through Me" might be...good? It's got a bounce that could—if you kinda squint—be described as funky? Then again Paul McCartney is partially responsible for "Say Say Say."

Reconnecting with my love of processed American cheese: Quarantine has meant a lot of timetrying to recreate bodega breakfast sandwiches at home. (Upon further review...processed American cheese might be the critical ingredient.)

Taking mid-afternoon showers. (Ed. note: This is for the primary shower, not an additional, tea time-based cleaning.) 

Discovering Japanese City Pop: Music is on pretty constantly in our home, either from someone's Spotify or YouTube. It was one of those times, after thoroughly confusing the recommendation engine with the combined power of both our tastes, that YouTube pointed me to My Analog Journal. It's a channel dedicated to listening to rare records on vinyl, specifically artists from around the globe. That's where I got my first taste. How would I describe Japanese City Pop? Dramatic synth playing around with gauzy horn riffs, and chunky beats that marry the carefree excess of disco with the grim excess of the 80s. It's like hearing Diahann Carroll make an entrance on "Dynasty."

Talking shit about the guy who regularly plays bagpipes in our neighborhood during the 7pm clap for first responders. IT'S NOT ABOUT YOU, IAN. NO ONE CARES THAT YOU'RE 25 PERCENT SCOTTISH RIGHT NOW.

---

Support: If you've read this far into the email, I appreciate it. Seriously, thank you. If you enjoyed this dispatch and want to throw a little support towards this project, you can donate on Ko-fi.